What is Open Firmware?
Open Firmware, the first non-proprietary boot firmware that is usable on different processors and buses, is required by the PR*P and CHRP specifications, and is defined by IEEE standard 1275-1994.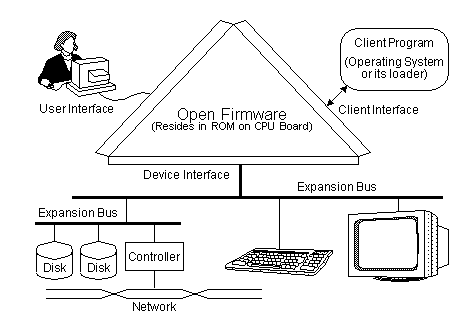 The list of Open Firmware features is long and comprehensive. We have both a high-level functional breakdown of these Open Firmware features, as well as a lengthy feature listing including all of those features required by IEEE Standard 1275-1994 as well as FirmWorks's extensions.
For more information on IEEE 1275 Open Firmware, we recommend you browse the IEEE Standard 1275 Working Group's Home Page where you will find general information and the official minutes of the Working Group.
The latest draft version of the ANS (ANSI) Forth standard is provided courtesy of Skip Carter and Norman Smith.
You can even hear Mitch Bradley singing the Open Firmware Song (278K)!
Back to What is FirmWorks?
Back to FirmWorks Home Page
---
Last Modified: November 19, 1997